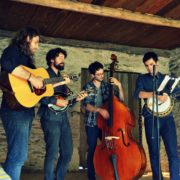 There are arrival targets that become starting points. And with these three songs we start a new trip,as high as ever towards a new research back in the past, but always aiming at the future. During the last year we have been deeply involved in several tasks, study, work, family, friends and all this inspiring us has ended up into this new registration as if by magic!
The three songs are about large distances between time and space, of unbearable losses and vague and uncertain hopes that sometimes you need to take again to keep on going.
From our valleys in Piedmont to Great Britain, from Africa to the USA, to everywhere. Something divides us, a great deal unites us.
…………………………………………………………………..
Ci sono tappe di arrivo che diventano punti di inizio. E con questi tre brani iniziamo un viaggio nuovo, più carichi che mai, verso una nuova ricerca a ritroso nel tempo, ma sempre puntando al futuro. Nell'ultimo anno ci siamo trovati immersi intensamente in svariati impegni di studio, di lavoro, tra famiglia, amici e tutto ciò che, ispirandoci, è finito (magia!) in queste nuove registrazioni. Sono tre brani che parlano di grandi distanze, tra lo spazio ed il tempo, di perdite incolmabili e di vaghe e labili speranze, che a volte può essere necessario riprendere per andare avanti.
Dalle nostre valli piemontesi alla Gran Bretagna, dall'Africa agli USA, a ovunque. Qualcosa ci divide, molto ci unisce.