Matteo Meloni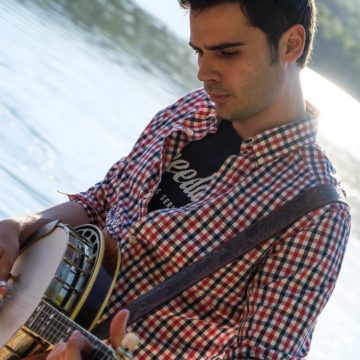 Biography
Born in 1990, he gets close to music at young age by studying classical piano, an instrument that accompanies him for many years. After a crazy period of studies, he makes peace with music and finds again the harmonious inspiration through a new and unexpected instrument: the banjo. Graduated in Italian Literature, he lives of music, poetry and other unthinkable amenities.
……………………………………………………………………………………
Nato nel 1990. Si avvicina alla musica in giovane età con lo studio del pianoforte classico, strumento che lo accompagnerà per diversi anni. Dopo un periodo di studio universitario "matto e disperatissimo" , fa la pace con la musica e ritrova l'estro armonico con uno strumento nuovo e inaspettato: il banjo.
Laureato in letteratura italiana, vive di musica, poesia e di altre impensabili amenità.
Discography
2016 Bluegrass Time The Trivettes Bluegrass Brothers
2018 Singles The Trivettes Bluegrass Brothers